Eurothread Lift: An Overview
Dr. Upadya offers a unique, minimally invasive treatment for rejuvenating the appearance of the face, neck, cheeks, and even the lips. EuroThreads uses an FDA-approved type of absorbable suture that can lift, restore volume and create definition to improve the texture, tone, and overall appearance of the skin. In addition to providing a full range of cosmetic dentistry treatments, we offer the Eurothread Lift in East Hanover, NJ.
Less invasive than a facelift, EuroThreads can be completed with minimal discomfort in one visit to our dental office in East Hanover, NJ.
Dr. Upadya has advanced training in facial esthetics and offers EuroThreads as an alternative to Botox® cosmetic, dermal fillers to complete a smile makeover or address the common signs of aging. He will work with you individually to evaluate your needs, and the condition of your skin and to make recommendations for achieving your aesthetic goals with the safest and most suitable option.
Reverse the Signs of Aging 
Minimally-invasive procedures
Nonsurgical treatments
Proven results
EuroThreads are strategically placed in desired areas of the face or neck to create a lift beneath the dermis and to stimulate the natural production of collagen, which diminishes as we age. The effect is restored volume, smoother texture, and a more youthful appearance.
What can EuroThreads treat?
EuroThreads can be placed to address a range of cosmetic concerns, including:
Wrinkles, fine lines
Folds in and around the eyes, nose, and lips
Sagging skin
Define the lips
Sagging brows
Lines between the eyes
Real Results, You – Only Younger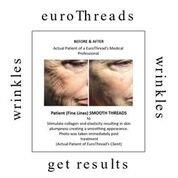 Eurothread Lift: What to Expect
Eliminate Under-Eye Bags 
Dr. Upadya can gently place EuroThreads beneath the eyes to reduce the appearance of lines and wrinkles, which create a "baggy" look. The increased volume created by the resorbable sutures will brighten the eyes, create more definition, and reduce the appearance of bags.
The skin beneath the eyes is often one of the first areas to reveal fine lines and wrinkles or appear "puffy" as we age. This is due to the slow loss of collagen and volume beneath the skin and decreased muscle tone around the eyes.
EuroThreads can provide an instant boost below the dermis, reducing wrinkles and supporting other tissues. The result is a more defined, less baggy appearance below and around the eyes.
---
Treat Acne and Reduce Visible Scars 
Do you have visible scars from acne, surgery, or other skin issues? EuroThreads can often be placed to reduce the appearance of these scars.
Dr. Raj will evaluate your concerns and recommend the most appropriate treatment for addressing them with lasting success. EuroThreads can improve volume beneath the dermis and support overall skin tone when strategically placed by an experienced practitioner.
---
How does EuroThread work?
The EuroThread process is relatively simple and completed in the comfort of our dental practice. Dr. Raj will use a local anesthetic to numb the area and also offer sedation alternatives for patients with anxiety. A thin needle that contains a pre-inserted suture is gently placed below the skin. There are several threads, each with their own uses and benefits.
Dr. Raj can move the needle under the surface to place the thread as needed. The needle is removed, and the suture is left in place.
Most patients can return to their daily routine with minimal discomfort, typically experiencing only minor redness or swelling at the site.
How long do EuroThreads last?
Made to last for 6-8 months, some patients will enjoy an improved appearance for up to a year. Dr. Raj can create a personalized treatment plan to help you maintain a more youthful look using EuroThreads.
Eurothread Lift FAQs
How Long Does The Eurothread Procedure Take?
The time that Eurothread takes to complete may be anywhere from 20 minutes to an hour. It varies based on the areas needing treatment.
What Is Eurothread Recovery Like?
Recovery from the Eurothread procedure typically entails slight swelling, soreness, and sensitivity. Patients do not require much rest after Eurothread because it is not particularly hard on the body.
How should I sleep after Euthrothread lift?
After a Eurothread, we advise patients to sleep on their back for the week following Eurothread lift. Sleeping with your head propped up with a pillow may be shown to reduce swelling.
What areas can be treated with EuroThread?
EuroThreads are effective on the face and neck. It is commonly used to lift sagging cheeks to create a smoother, more youthful appearance.
How does the EuroThread lift procedure work?
EuroThread stimulates collagen production. Increased collagen gives the skin elasticity and reduces wrinkles. The results from EuroThread typically last anywhere from 12-18 months.
Is one EuroThread treatment enough?
A single treatment with EuroThreads is often sufficient for many of our patients. In some cases, a second treatment may be required to achieve a more youthful lift.